The design process
Sometimes it starts with shape. Sometimes it's just a size that I want. Sometimes it's a color - but mostly it's a color family, not a specific color. Mostly it starts with the desire to solve a problem i.e. hands free, traveling etc. But it almost always starts with coffee.
I don't have formal design training, I just can't get images out of my head and I'm always observant of what's going on around me, and I listen. For example, I noticed while I was working at the Brooklyn market that 90% (and I'm no math major so that's my interpretation of A LOT) of women (and men) were walking around wearing cross body bags. And, those who came to my stand asked if many of my bags had a cross body function. This past season I didn't have many.
I also looked around and saw what was on offer; flat, square, monotone and not always functional. I keep this in mind but I don't necessarily feel like I remember when I am in the depths of production. I'm not so organized that I know exactly what I want before it's made, I just have a rough idea and then all that observed thought inventory comes forth just as I need it.
For this season, most of the designs have an element of what I felt I was being asked of me; more cross body function, and then I added what I felt was missing; deeper pockets, more dimension, an interesting tote, something fun and unique. I'm definitely someone who is a product of my environment - like a camelian I quickly adapt to where I am and absorb my surroundings.
I didn't go to South America to design and create bags that one could find anywhere. I wasn't interested in making more of the same, I never am. The country influenced me for sure and I picked up little pieces along the way, not necessarily knowing how I was going to use.
Like these belts. They're made of cotton and wool (the color is wool) and they're hand woven on a small loom. The women of Ecuador wear these as part of their traditional costume and they come in a thousand different colors and patterns. I just knew I had to put them on the bags somehow but it wasn't clear how in the beginning.
These belts laid around for about 2 weeks. I carried bags of them from Ecuador to Colombia on long winding roads. I kept looking out the windows of the many buses figuring out how they were going to go on these bags. There were so many ways they could be placed and I was aware I'd used a strap like this in a previous bag and I didn't want to repeat that pattern.
As is often the case, I found my answer in a coffee shop. Whenever I am overly rapt up in thought I know it's time to sit my ass in a coffee shop somewhere because the distraction helps to take me out of my head. So, it was over a cup of Juan Valdez coffee that it came to me. The landscape that I immersed myself in, and the fashion of the cultures I was witness to seemed to flash by me in seconds having a big influence on this seasons offerings.
The process of getting sampling and then production is something that I stay very close to. It's a small husband and wife operation who make these bags for and from the minute we agree on design and I give the go ahead for the first sample and then the green light on production, I'm in the workroom. Efren and Nivia are the team that make all my bags and we have built a great relationship.
Below are some photos of the production - and a day buying materials.....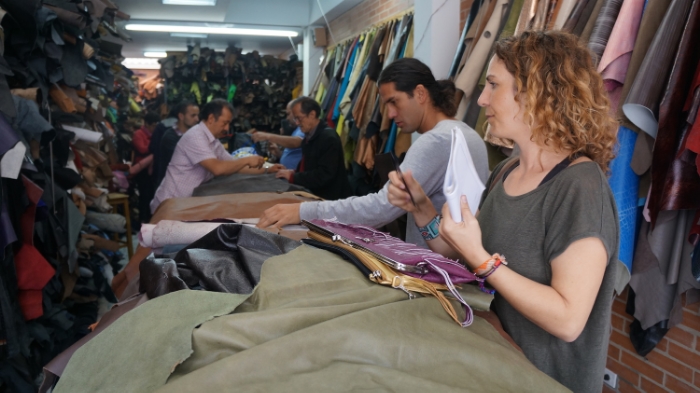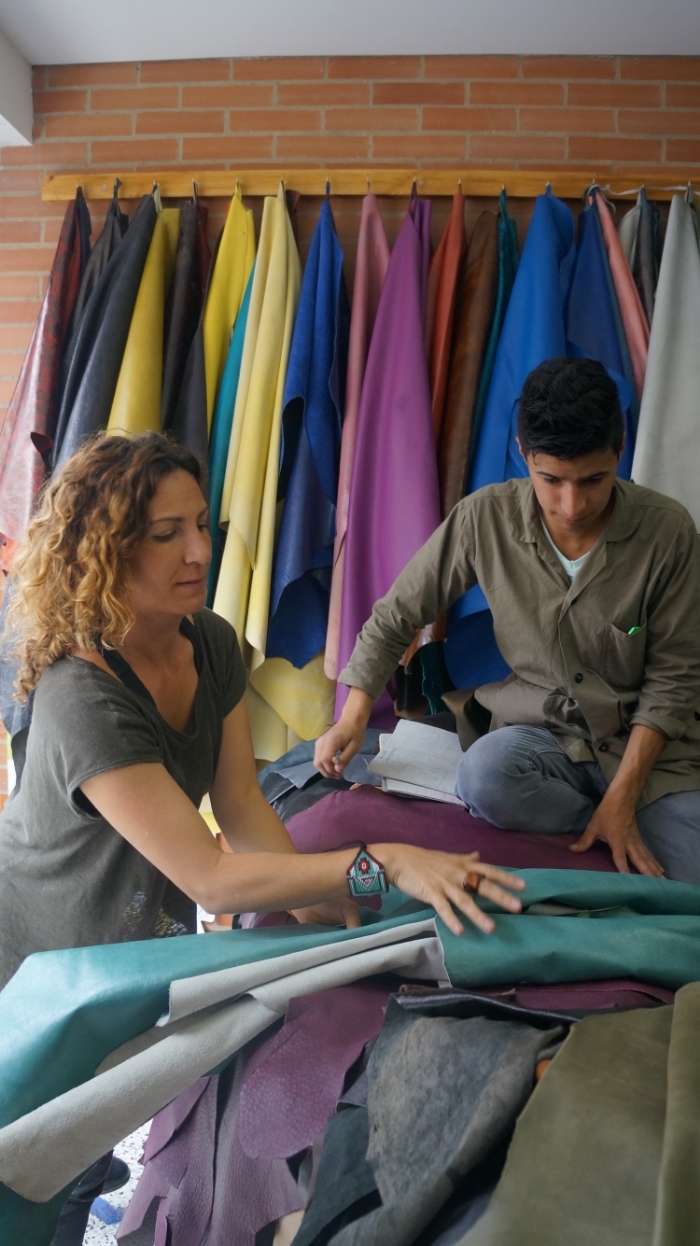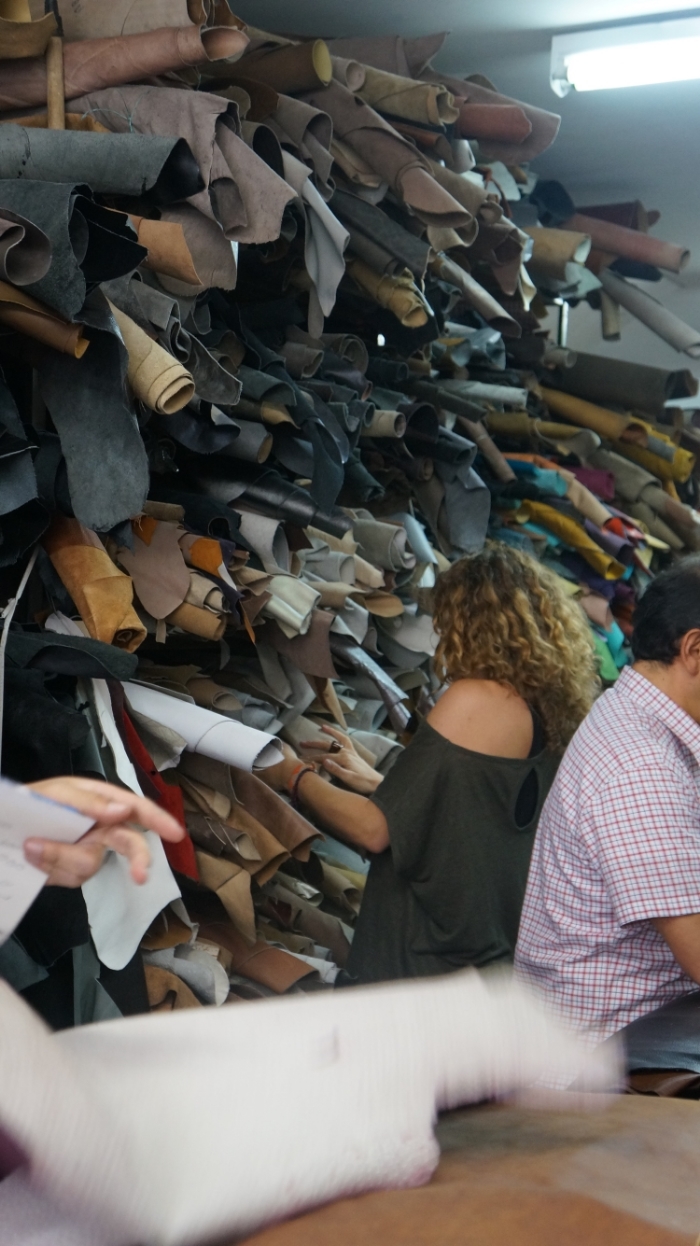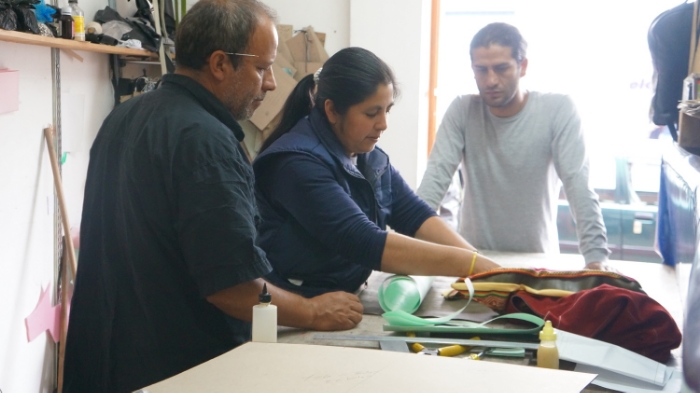 Look out for the Fringe Fatale Boho Tote. There is limited stock (only 12 made) and each bag has it's unique belt. There are 3 leather colors: black, cement and chocolate. $285 each. The lining is nylon, there are 3 deep pockets inside (one is zippered) and had metal hardware and metal zipper.
And, I am excited about our cross body laptop bag. Same color leathers (although the chocolate is a little darker on this). $185
My process was the same with all of the bags. It happened along the way, I had a rough idea but then I was influenced by something I had seen in my travels. This clutch was a perfect example.
I knew I wanted to make a bag for us sexy ladies to go out for a night on the town with. I wanted something dimensional and cool; with texture and style. I had the idea of using a metal clasp, in fact I had a small purse that I bought from home with a metal clasp as an example of what I was looking for. But, as soon as I saw this size metal closure I bought it. I had found the leather I wanted to use 3 days prior, not knowing how I was going to use it but it was a no brainer once I saw the metal closure.
It wasn't so easy finding a manufacturer to work with this closure - but I found an older guy who barely spoke, let alone spoke english and he just gestured that he could do it. So, I trusted him. The only design element I had really decided on was the fringe and the pointed triangle in the center.
The following day, however, I was walking to buy some zippers and outside a hardware shop was a board with all these metal accents. As soon as I saw this little beast I knew it needed a home on this bag. So, I rescued it from the boring hardware shop, ran it over to the manufacturer and now it's the piece that pulls it all together (no pun intended).
I recently read that the function of chaos is self-organizing. I have to admit that when I'm in the throes of design and production all it is chaos. I have piles of leathers and buckles and belts and zippers and things that I am drawn to. But I have learnt to trust that initial madness and the feeling of overwhelm and not to let it take over.
With all of it in front of me I lay it out and start putting pieces and ideas together and then listen. I feel it immediately when it's right. I think most creative processes are the same. It is the same with writing. Sometimes a sentence comes along that has no relevance at the time but you keep it anyway...and then, it comes to you again and the next thing you know you have a paragraph, then a page and then an entire story.
I hope you'll like this seasons's offerings. They'll be online soon, I promise (if they don't sell out first).
xo
Lyn